Danny Doughty
Danny Doughty will be featured in our Art on the Front Porch Walk this May. For more details please visit the Front Porch Art Walk page here
Danny Doughty is an internationally recognized visionary folk artist from the eastern shore of Maryland who has been painting for over 35 years. Born and raised in a small fishing village called Willis Wharf, Danny Doughty grew up in area relatively isolated from the rest of the world. Doughty's family owned a fish market, but Danny grew up painting.
Doughty was raised by the local black women who gave him love and the inspiration for his pictures. The women took pride in the simplest of tasks such as doing the laundry, gardening, fishing or caring for children. At the same time there was oppression for these women which Danny connected to, he saw they had no voice of their own, just as he felt he had no voice. He conveys this so eloquently by painting most women without faces.
Danny Doughty paints with a richness of color and style which creates a feeling of joy and happiness, Often the world that Doughty paints is an idealized version of the world in which we live. Doughty's paintings capture a sweet rural simplicity and celebrate the beauty of everyday acts of working and caring.
To view Danny's 'Time lapse' painting video click here
Read this artist's biography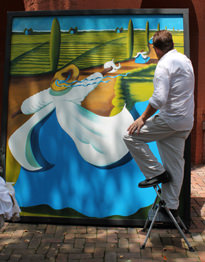 Biography coming soon
Read the article in the Carroll County Times