Robert Broderson
(1920-1992)
Robert Broderson was "an artist very sensitive to questions arising from life and its moral pathos," wrote Edward Bryant, Associate Curator of the Whitney Museum of American Art. "Raw, impulsive expression of a deep concern for the problems of existence gives these works a remarkable visual intensity and their ultimate value… Relying on feeling and intuition, Broderson comes to grips with the compelling themes of life, death, and the human condition."
Broderson exhibited widely in North Carolina and nationally, and was the recipient of numerous awards and honors. Gallery C is proud to present the work of this important 20th century American artist to today's public.
Read this artist's biography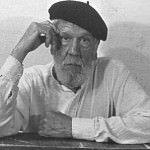 Robert Broderson was born in West Haven, Connecticut on July 6, 1920 and died in Independence, Virginia on March 12, 1992. He was a painter for forty-five years from the time he entered Duke University after WWII, to his last years in his studio in Independence overlooking the New River.
Broderson served in the Air Force from 1942 to 1945, traveling to Africa, Sicily, England and France. In 1947, with the help of the G.I. Bill, Robert enrolled as a twenty-seven-year-old freshman at Duke University in Durham, North Carolina. In his sophomore year at Duke, Broderson began the work in painting that would be his life.
After he graduated from Duke, Broderson received a M.F.A. from State University of Iowa. He then returned to Duke where he taught classes in drawing and painting for twelve years. He was an Associate Professor of Art when he left Duke after receiving a Guggenheim Fellowship in 1964. Broderson also taught at North Carolina State University in Raleigh from 1967 to 1968 and at the Skowhegan School of Painting and Sculpture in Maine during the summer of 1967. After the 1960's, Broderson gave up teaching and devoted his life to painting.
Highlights of Broderson's career include the Guggenheim and Ford Foundation Grants and the induction into the American Academy of Arts and Letters. He had shows at the Whitney, the Museum of Modern Art, the Metropolitan, and he was represented by the Catherine Viviano Gallery, which also represented the German Expressionist, Max Beckmann, and other great American Abstract Expressionists.
As a painter, Broderson worked mainly with oils; however, in his later years he began experimenting with acrylics. Broderson's work began in black and white. The black was oil, India ink, pastel, or pen; the white was painted, left bare, or scratched off with a penknife. Broderson studied shades of black and white, brown, and gray for decades, and off and on through experiments with color. In his later years, he moved into strikingly discordant colors of oil pastel. In between is a vast body of work, which testifies to the fertility of his creative imagination.
Broderson was a figurative painter, concerned with human and other figures. He sometimes invented new creatures in his work; often, a menagerie of people and the animals seemed to pose the perennial questions: where do we come from, where do we go? He studied all the varieties of human experience and expression. The people in his paintings, as he said, were not real people. He worked on many canvases at once and never hesitated to rework what seemed finished. He hated dating his work or titling, and often covered an entire wall with sheets randomly cut from a roll and worked on them all at once. He peopled whole worlds. He painted nearly every day for forty-five years.
Carol Broderson
Independence, Virginia, 1/19/95
---
Permanent Collections
Whitney Museum of American Art, New York City
American Academy of Arts and Letters, New York City
National Collection, Smithsonian Institute, Washington, DC
Wadsworth Collection, Hardbrd,CT
Princeton University, Princeton, NJ
Carnegie Institute, Pittsburgh, PA
Colorado Springs Art Center, Colorado Springs, CO
State University of Iowa, Iowa City
Des Moines Art Center, Des Moines, Iowa
Harpur College, Binghampton, NY
North Carolina Museum of Art, Raleigh, NC
Hickory Museum of Art Hickory, NC
Winston-Salem Public Library, Winston-Salem, NC
North Carolina State University, Raleigh, NC
Duke University, Durham, NC
University of North Carolina, Chapel Hill, NC
Guilford College, Guilford, NC