May 15th – May 19th, 2019
Gallery C is pleased to announce a public reception and print signing for Louis St. Lewis and Nate Sheaffer, this year's official Artists of Artsplosure – The Raleigh Arts Festival. The event will be held at the historic Russ-Edwards House, the home of Gallery C, on Wednesday May 15th, 2019 from 5:30 – 8:00 p.m.
An exhibition of their original works will be exhibited and for sale at Gallery C from May 15th through May 19th.
Artsplosure, Raleigh's famed outdoor art festival, salutes its 40th anniversary this year on May 18-19 along Fayetteville Street. To celebrate, a special commemorative artwork has been created by the team of Louis St. Lewis and Nate Sheaffer. St. Lewis has a long history with the Artsplosure festival, having created some of its most memorable images. The 2019 artwork depicts a modern-day interpretation of Sir Walter Raleigh holding a 40th anniversary acorn, standing amidst a spiraling vortex of painted butterflies. This image will become the official artwork for the Artsplosure poster and a limited-edition fine art print available for sale to the public.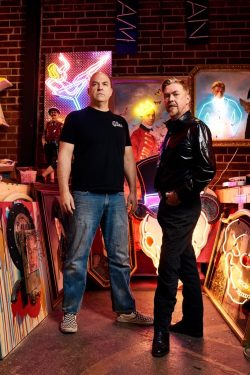 Native North Carolinian Louis St. Lewis is a preeminent visual artist of the South, best known for small intimate collages on both glass and Plexiglas which blend pop culture, mythology, and art history. St. Lewis' reputation as a Bad Boy Provocateur is earned by his witty, shocking and bold experimental pieces that mix sex, glamour and antiquity. His most recent large scale acrylic paintings incorporate the neon art glass of Nate Sheaffer. The artist has been named " Best Artist in the Triangle" by Spectator/ Independent Magazine in 1988, 1990, 1992, 1994, 1997, 1998, 2000, 2001 and 2002. He is also known for poster designs for organizations, including Artsplosure in 1994, 1997 and 2003 and the Opera Company of NC in 2003.
Sheaffer has been a sculptor in the Raleigh Durham area for over thirty years. He is the owner and founder of Glas, a neon art glass studio. He is a designer, consultant, and manufacturer of unique neon, LED, incandescent lighting fixtures and installation. The artist is well known for monumental public art installations such as: "Light the Woods with Sound" in 2018 at Dorothea Dix Park, and "EyeCentennials" in 2016 at the Art Box in North Hills.