Pablo Picasso
(1881-1973)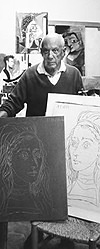 Pablo Picasso is known to be the greatest painter and most innovative sculptor of the 20th century; he was also its foremost printmaker. His unquenchable passion for exploring printmaking methods resulted in an enormous body of printed work on paper. Picasso was very prolific and some of his large edition graphics tend to be much less expensive than the limited edition prints.
Picasso's genius shines in his original prints, showcasing the boundless energy he infused in his work. Picaso is hailed for his great number of innovative techniques used in producing his original graphics. All works in this exhibition have been identified and referenced to the catalogue raisonne by Georges Bloch who wrote the classic "Picasso: Catalogue of the Printed Graphic Work 1904-1967."
Gallery C provides documentation and certificates of authenticity with all works. Each Picasso work is newly framed to museum standards with UV filter glass and conservation matting. Many of the frames are antiques. Do not miss this quality exhibition of one of the world's greatest artists and the father of the Cubist era: Picasso!